The Adelaide Mosque Islamic Society of South Australia Inc (AMISSA) has a dedicated team of volunteers who are committed to enriching South Australia's Muslim multicultural sector. Their aim is to do this by offering a range of culturally and religiously appropriate services and programs to the many cultures that are part of this community.
Since the Mosque was built in 1888 by Muslim Afghan* Cameleers, our society has become even richer and now has regular visitors from over 20 nationalities as well as visitors from any background because of its heritage significance. We open our doors to schools, workplaces, and community organisations who come to learn about Islam as well as our Heritage-listed Mosque.
Our devoted team of volunteers successfully established AMISSA as an incorporated organisation in 1981. The Mosque became a place of connection and wellbeing for many Muslims to support each other while being an integral part of the wider Adelaide community. Over the years, AMISSA has evolved in having an important position within the wider structure of the South Australian community by providing services and programs which align with the Australian culture whilst maintaining culturally accepted understandings of the Islamic Multicultural communities.
AMISSA aims to maintain being a productive part of the community in the awakening of modern ideals. We strive for social cohesion in all aspects of our governance and operations through moderation and understanding.
* The oldest functioning Mosque of Australia built-in 1886-88 by migrant cameleers, from Afghanistan, the north-west part of India (now Pakistan), and Baluchistan (largest province of Pakistan.
The mission of Adelaide Mosque Islamic Society of South Australia Inc (AMISSA) is
To provide a secure and comfortable facility where diverse multicultural Believers may gather for the worship of the one and only ALLAH The Exalted ( عز وجل);
To serve and to interact with the Muslim and Non-Muslim communities-at-large in accordance with the teachings of the Holy Quran and with the Sunna (way of life) of the Prophet Muhammad ﷺ
To provide access to culturally and religiously appropriate services and programs to our multicultural Muslim community.
We aim to play a major role in the harmonious multicultural society of South Australia through our members, our programs and institutions. The aims and goals of AMISSA are enriched with the objectives of a harmonious multicultural society that coincides with the paradigms of sincere Australians.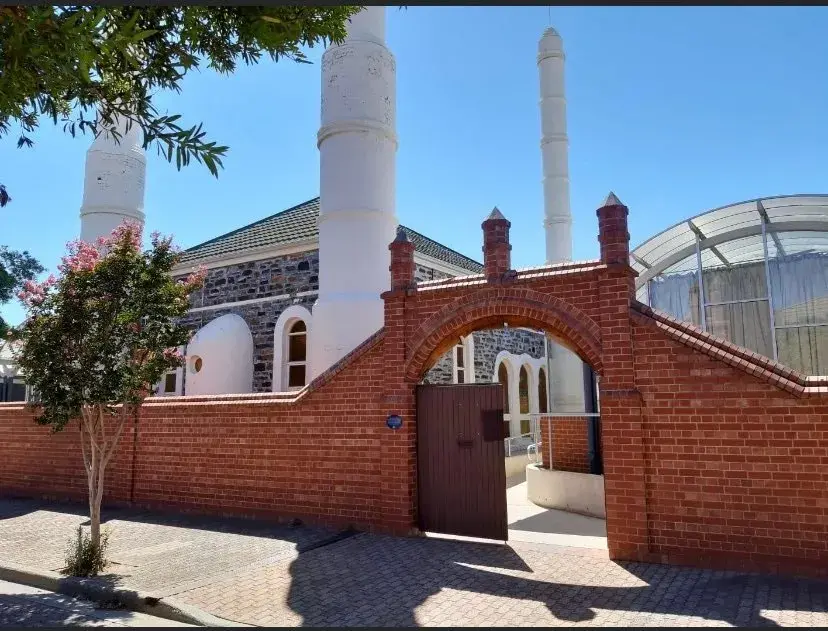 AMISSA will proudly continue to harvest its progress on the same platform of moderation and understanding.
Our vision is to highlight and facilitate understanding of the true Islamic teachings. We aim to inspire an appreciation of Islamic values by educating the community about the true essence of the religion and its guiding principles , Tasawwuf  and by demonstrating their effectiveness in today's world.
Our spiritual vision is to pursue true faith, correct knowledge, the truth of divine love/Sufism, love for Allah عز وجل and His beloved Prophet Muhammad ﷺ and pursuing justice, freedom, purpose with discipline and righteousness in a peaceful and caring environment.
We want to inspire all our attendees to be proud of our diverse Muslim identities and stand strong and united as the Adelaide city mosque has stood over the centuries. Knowing that you must be the positive change in yourself that you want to see in the rest of the world.
AMISSA is governed by the Board of Trustees.