The oldest functioning Mosque of Australia built in 1886-88 by migrant cameleers, from Afghanistan, north west part of India (now Pakistan) and Balochistan (largest province of Pakistan) 
Welcome To Adelaide City Mosque
Packed with History and a uniting place for all communities. Being a Muslim community organization we are providing various services to our fellow Muslim brothers and sisters. We offer the opportunity to attend prayer 5 times and other facilities.
Vision
Our aim is to provide service to our local Muslim community alongside others in our neigborhood.
Mission
We are trying to help enrich our Muslim community by providing knowledge on Islam and encouraging praying together.
Become a part of our community and follow the honorable path of righteous. Learn about Islam and find peace and spirituality.
Be sure to hold these pillars of Islam very close to your heart. May Allah guide you on the right path. Take a closer look at these.
Donate to Support your Mosque
Your Contributions to Mosque are used to support mosque and wider community.
You can make contributions to Mosque using direct deposit. Make sure to write in description purpose of donation.
Bank: CBA
BSB: 065116
Account: 10249393
Descripton: Write purpose of donation
May Allah enable you to live a good life and spread the message of Islam. Keep yourself updated with recent news and happenign at adelaide city mosque.
Please join us for the Adelaide Mosque Open Day for the celebration of the historical relationship between Afghan Cameleers and Aboriginal and Torres Strait Islander Peoples in the advancement of Australia. You MUST register for the event – please use this link
https://ti.to/amissa/adelaide-city-mosque-open-day-2022
AMISSA acknowledges and respects that Australia Day does not have the same meaning for all Australians, especially Aboriginal and Torres Strait Islander Peoples, where the day marks a day of loss on so many levels, and see it as Invasion Day, Survival Day and Day of Mourning.
As migrants we want to reflect, respect and celebrate the connection between the First Nation communities and the Afghani cameleers (who built the Adelaide Mosque in 1886-88). We are grateful that the First Nations people for giving these cameleers hope, family and community.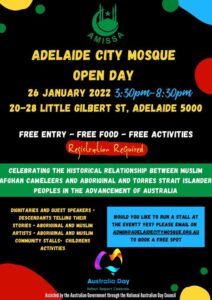 Summer Camp would now be *online* due to increased COVID transmission risks within the community.
*Online Islamic Summer Camp*
For Boys and Girls
Enrol your child in Islamic Summer Camp in this school holidays.
*Your child can learn*
Basic Islamic knowledge
Prayer rulings
Quran Recitation
Seperate classes for boys
and girls
Start from
*3rd Jan 2022 till 14th Jan 2022*
ONLINE Classes via Microsoft Team
Last date of registration
*2nd Jan 2022*
*Be quick, limited seats are available*
For registration use the below link
Contact :
0420619226 | 0470 480 062
*Dawat-e-Islami Australia*
*Adelaide City Mosque*